Telephone
My confidential office voicemail number is (212) 496-9310 and you can feel free to call this number 24 hours a day. This is the best place to leave messages, and I'm generally able to return them within 24 hours Monday to Friday. On Tuesdays and Thursdays, you can also call my Westchester office at (914) 944-0035. Please note that my schedule may not permit a timely response to urgent calls, so if you are experiencing a crisis that can't wait for a return call or our next scheduled session, you should call 911 or go to your nearest Emergency Room.

E-mail
If you prefer to send me an email, you can do so with my contact form at the end of this page.  You can usually expect a reply to email within 24 hours.  Please remember that email is never completely secure and confidential.

Availability
I generally see clients in my Manhattan office on Mondays and Wednesdays and in my Westchester office (in Briarcliff Manor) on Tuesdays and Thursdays.
Locations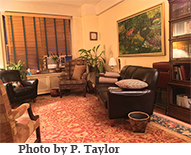 My Manhattan office is at 27 West 86th Street,
Suite 1D, which is on the north side of 86th Street,
between Columbus Avenue and Central Park West.
There are several steps up to the office, so it is not easily wheelchair accessible.

(By subway, I'm closest to the 86th Street stop of the B or C trains, and a few blocks from the 86th Street stop of the #1 train. By bus, I'm closest to the 86th Street crosstown or the #10 on Central Park West, and a few blocks from the #104 on Broadway.  If you're driving, there may be on-street parking in the surrounding blocks, and there are also a number of parking garages nearby.)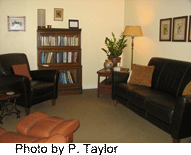 My Westchester office is on Sleepy Hollow Road and is not wheelchair accessible.
 
I will provide more detailed directions if we
make an appointment to meet in that location.

Please note that the content on this website is for informational and educational purposes only, and is not intended  to substitute for professional services.  Visiting this website or contacting me by email or phone does not constitute or establish a therapeutic or professional relationship.

Copyright ©2011. Peter J. Taylor, PhD