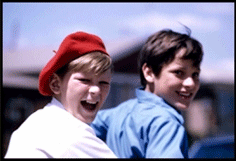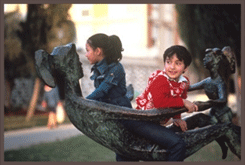 "We are all born to participate
in each other's nervous systems."
— Daniel Stern
Why group psychotherapy?
Although each person's problems are manifested differently, many who seek help from psychotherapy have in common the difficulties of establishing and maintaining close and gratifying relationships with others, and of feeling good about themselves.  If this is so for you, these difficulties may be caused by the ways you have of behaving, of relating, and of reacting:  patterns of behavior first acquired in the environments in which you were raised.  And these environments, such as family and school, were always group environments.

Consider this:  At many times in your life, you have undoubtedly wished to clarify a relationship, to be really honest about your positive and negative feelings with someone, and to get reciprocally honest feedback.  The general structure of society, however, does not often permit totally open communication:  feelings are hurt, misunderstandings arise, communication ceases, and eventually relationships end.  A psychotherapy group is a sort of social laboratory, in which such honest interpersonal exploration vis-à-vis the other members is not only permitted but encouraged.  Assuming that you have questions about your methods of relating to others or about your understanding of yourself, then a situation that encourages honest interpersonal exploration can provide a clear opportunity to learn many valuable things about yourself. 

This information sheet is for people who are about to begin group psychotherapy.  It is useful for people starting group therapy to have some general ideas about how groups help people and how they, themselves, can get the most out of the experience.  Group therapy is different from individual therapy because many of the helpful events take place between the members and not just between the therapist and the members; thus, it is important that all the prospective members have a general introduction before beginning.  Some members of the group will simultaneously be in individual therapy, with me or with another therapist, and some will not; and some may have had previous group therapy experience.  Regardless of your situation, please read this material carefully and feel free to discuss any part of it with me.  The issues raised here are also useful to talk about during the first few sessions of the group.

How group therapy works

Working on your relationships directly with other group members will not be easy; in fact, it will be very stressful.  But it is crucial, because if you can completely understand and work out your relationships with the other group members, there will be an enormous carryover to the outside world.  You will then find ways to more rewarding relationships with significant people now in your life and with people you have yet to meet.  Remember, the therapy group does not reach its pinnacle in a single moment of honest disclosure; rather, it offers a social contract which encourages both disclosure and a responsibility to continue communication despite pain and anxiety.

You can help yourself most of all by being honest and direct in your feelings in the group at each moment--especially your feelings toward the other group members and towards the therapist.  This is the core of group psychotherapy.  As you and others develop trust in the group, you may reveal intimate aspects of yourselves, but the group is not a forced confessional, and people have different rates of developing trust and revealing themselves.  Consider the group as a forum for risk taking; when you trust the group sufficiently, try new types of behavior in the group. 

The more you involve yourself in the group, the more you will get out of it.  Group time is precious; it is a place to work on serious issues, not just pass the time of day.  Try to be as open and honest as possible in what you say, and do your best to translate your inner reactions into words.  In particular, try to identify the sorts of things that you find upsetting and bothersome.  Listen hard to what people are saying, think through what they mean, and try to make sense of it.  Remember that how people talk is as important as what they say.  As you listen to others and as you think about what you yourself have been saying, try to think beyond the words, to the other nonverbal messages being sent.  Perhaps the meanings of the words do not match the tone of voice or the facial expression.  You can help others by letting them know what you make of what they say and how it affects you.  At the same time, listen hard to what others say to you about your part in the group.  In this way, you can learn a great deal about what you communicate to others, including messages you may not realize you are giving, and about why they respond to you as they do.

Common stumbling blocks

There are certain predictable stumbling blocks in group psychotherapy.  You may feel puzzled and discouraged in the early meetings.  Or you may feel excited, at first, and then disappointed by the next several sessions.  It will, at times, not be apparent how working on group problems and relationships with other group members can be of value in solving the problems that brought you to therapy.  This puzzlement is to be expected in the typical psychotherapy process; I urge you to stay with the group and to resist any inclination to give it up.  It is almost impossible to predict the eventual effectiveness of the group during the first eight to twelve sessions, so you need to make a commitment to stick it out during this first phase of your participation in the group.  Joining a group makes most people anxious; it can help the group move forward to discuss these anxieties as you become aware of them.

Many people find it painfully difficult to reveal themselves or to express directly positive or negative feelings.  You may have a tendency to withdraw emotionally, to hide feelings, to let others express feelings for you, or to form alliances with others to avoid difficult feelings.  In particular, you are likely to develop feelings of frustration or annoyance with me, and to expect answers that I cannot supply.  Help will often be forthcoming from other group members.  One of the things you are likely to learn more deeply, in group, is the value of the process of talking complex things out with other people, rather than merely getting advice or pat answers.

Group guidelines

Confidentiality is as essential in group psychotherapy as it is in any doctor-patient relationship:  for you to speak freely, you must have confidence that your statements will remain within the group.  You may wonder whether you can discuss aspects of the group therapy experience with a partner or friend.  This is a question that warrants exploration within the group; often, the group can agree to guidelines that permit you to share your own experience with someone outside the group but that keep other members' experiences, and certainly their names, in confidence.
It is important that you attend all scheduled sessions and arrive on time.  Once a group gets going, it functions as a group, and if just one member is not present, it is not the same.  So both for your sake and for the sake of your fellow group members, please be a regular attendee.  If you will be unavailable for a session due to vacation, please alert the group in advance.  If it is impossible for you to come to a session and you could not give the group advance notice, please call me and discuss it, or leave a message to be relayed to the group, so the group will know you are not coming and won't wait for your arrival to get down to work. 

Contacts outside the group between members, in one form or another, may occur.  Remember two things:  One, the group may teach you how to develop intimate, long-term relationships, but it will not provide those relationships.  If used as an assembly for meeting and making social friends, the group loses its therapeutic effectiveness.  Two, if by chance or design you and another member or members do meet outside the group, it is your responsibility to discuss the salient aspects of that meeting inside the group.  The reason for this is that friendships with other group members often prevent you from speaking openly about one another in the group.  You may develop a sense of loyalty to that particular relationship and may thus hesitate to "betray" the other by reporting conversations back to the group.  Yet this reluctance will conflict with the openness and candor so essential to the therapy process.  Your primary task as a therapy group member is to learn as much as possible about the way you relate to others in the group, and ultimately to others outside the group.  All events that block that process interfere with your therapy.

A last word

Finally, it may be interesting to know something of the history and development of group psychotherapy.  Group therapy passed from a stage during the Second World War, when it was valued for its economic advantages (that is, it allowed psychotherapists to reach a large number of patients), to its present position in the field, where it clearly has something unique to offer and is often the treatment of choice.  Psychotherapy outcome studies show that group therapy is as efficacious as any mode of individual therapy, particularly when the presenting problem includes interpersonal difficulties--what I referred to earlier as the difficulty of establishing and maintaining close and gratifying relationships with others.  And you may find it reassuring to know that many group therapists belong to professional organizations dedicated to research and training in group psychotherapy, including an organization, the National Registry of Certified Group Psychotherapists, which sets standards for training and clinical experience for group therapists. 

Adapted from I. D. Yalom's The Theory and Practice of Group Psychotherapy (3rd ed.), published by Basic Books, 1985; K. R. MacKenzie's Introduction to Time-Limited Group Psychotherapy, published by the American Psychiatric Press, 1990; Information about Group Therapy, a handout prepared by M. Wainberg of the Division of Psychotherapy of the Mount Sinai Medical Center's Department of Psychiatry; and the American Group Psychotherapy Association's 1991 brochure, A Consumer's Guide to Group Psychotherapy.