Getting started…

Initial contact
First, let's spend some time on the phone to begin to assess whether I'm the right person for your needs. If I'm not the right therapist for you, I will do my best to refer you to someone who can help. If it seems like I could be, we'll schedule an initial consultation.
What to expect in an initial meeting
Please print out and complete the applicable forms—which you'll find by clicking the "Forms" button—and bring them to our first session, so that completing them doesn't take away any of our initial time together.
Depending on your needs, we might spend some time discussing what has brought you to my office, what you're hoping to achieve, and how we might work together.  On the other hand, if you're in a particularly difficult moment of your life, we may "dive right in"–but as we do, we'll still each be keeping an eye on how this working together seems to be going.  I'll try to answer your questions and ask some of my own, and at the same time our nervous systems will be getting acquainted on a nonverbal level.  Over the course of one or several sessions, we'll come to know whether it feels right to you to continue on your journey with my support and guidance.
If you're considering joining a psychotherapy group, we're likely to meet two or three times individually first.  Those sessions will cover some of the same territory as they would if you were coming for individual therapy, but we'll also use them to orient you to how group therapy works and to decide which group would be the best fit for you.
Referrals
Sometimes it will become apparent that I won't be the best fit for you, or that I'm not able to provide the particular help you need (including the right group, if that's what you're looking for).  If that's the case, I have a professional network of individual and group psychotherapists both in NYC and across the country, and I'll try to help you find someone more suitable.
Magio, the therapy dog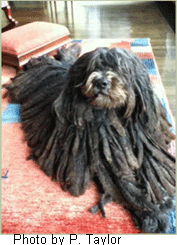 My Bergamasco sheepdog, Magio, has come to
the office once a week for ten years. Recently,
he began to bark during sessions, letting me
know that he was ready to stay home and sleep
most of the day. I keep his picture here for those who enjoyed his loving, quiet presence.
Other administrative matters and office policies are discussed here.